Photocopy, print and scan
How do I photocopy, scan or print ?
Printing
Step 1 / Send your document to the printing plateforme :
https://impression.u-cergy.fr
Sign in with your ENT account which is also used to login to CY library online resources and WiFi : ENT MonUCP.
All registered staff and students of the University of CY automatically have their ENT login, but it should be activated.
External users must create an account on the portal "Cap'Visiteur" (accessible only from PCs in university libraries).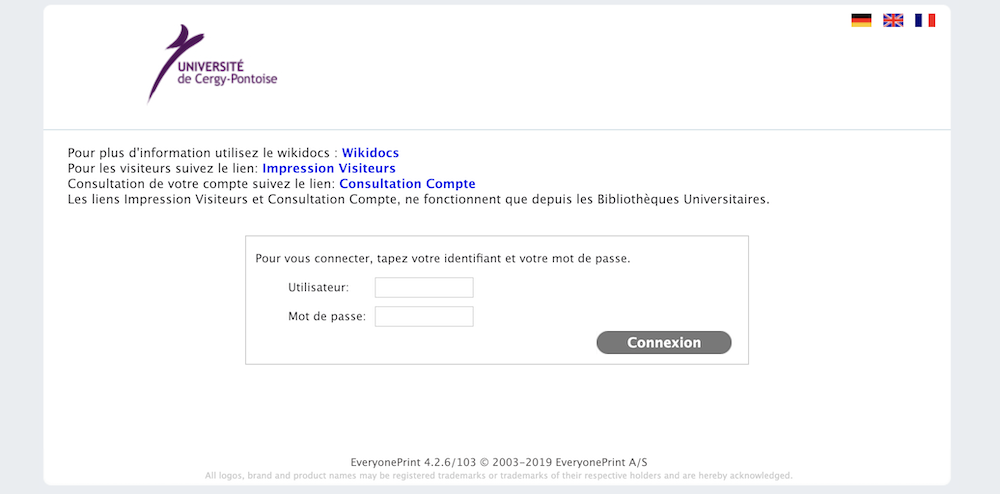 Step 2 / Choose the file to import it
The file name must not

include spaces, accents, or

special characters. You can

not print from a web page.

You can set in adavanced preferences ("Avancé") : number of copies desired, pages to print, double sided printing.

To validate your print request you must click on the button ("Imprimantes"),choose

a color or black and white printer.

File formats you can print

- Microsoft Office, OpenOffice, PDF, JPG, GIF, PNG, TIF, BMP, TXT
- Documents A4 ou A3
Other formats are not accepted.
Please note that a print sent to a color printer can only be printed to a color printer.
Please check if your library has a printer in colour.
Step 3 / Please go and log onto the computer near to copier/printer
("Poste de déblocage")
,
Use your ENT username/password and all print jobs sent to your account will be waiting for you. Print jobs are purged after 72 hours.
Select the document (s) you want to print then click on "print the document" (bottom right).
Insert your print card into the reader when the message appears, then click "Confirm printing". Log off and collect your copies from the copier's tray.

Who do I contact to ask questions or report problems ?

It is best to contact a member of library staff in the first instance but you can also fill in a question form :
http://www.sedeco-impressions.com/cergy-pontoise/contact
Photocopy a document
Place the document to be copied on the copier glass.
Insert your photocopy card into the gray reader located on the copier.
Press "Copy" on the copier screen, choose your copy options and press the green button to start printing.
Scan to USB
You can scan a document to a USB stick, only. This service is free.
Insert your USB stick into the port on the left of the copier screen.
Place the document to be scanned on the copier glass.
Press "Scan" then "USB", choose your scan options and press the green button to start the scan.
Bind a document
This service is available in the St Martin library and it is free.
Where I can print ?
Cerclades Library
- 2 B&W copiers (1st and 2nd floor)
- 2 color copiers (ground floor and 3rd floor)
Chênes Library
- 1 B&W print/copier
- 1 color print/copier
Neuville Library and Saint-Martin Library
- 1 color print/copier
Libraries of Cergy-Hirsch, Saint-Germain-en-Laye, Antony and Gennevilliers
- 1 B&W print/copier

There is no a copier at Argenteuil and Sarcelles libraries.
How much does it cost ?
For printing in A4 format
€ 0.07 for a B&W print
€ 0.18 for a color print
1 A3 print = 2 A4 prints
1 double-sided printing = 2 prints

Print / copy card€ 0.70 upon purchase.
Card valid for 1 year, non-renewable.
Cards are available for purchase from libraries:
Cerclades,Chênes, Saint-Martin and Neuville (payment by credit card and currency)
Cergy-Hirsch, Saint-Germain, Antony and Gennevilliers (payment in currency only).
It is not possible to use the student card for your printing and photocopying at the BU.
https://bibliotheque.cyu.fr/english/use-the-library/photocopy-print-and-scan
We respect your privacy.
This website uses Google Analytics. By clicking on "Accept cookies" or by navigating on it, you authorize us to deposit a cookie for audience measurements purposes.

En savoir plus
Vous avez donné votre consentement pour le dépôt de cookies de mesures d'audience dans votre navigateur.
Vous vous êtes opposé au dépôt de cookies de mesures d'audience dans votre navigateur.
Le paramètre "Do Not Track" est actif sur votre navigateur. Aucunes statistiques de navigation ne seront collectées.