Photocopy, print, scan
Do you want to print, photocopy, or scan a document ?
Please follow the print guide !
Print a document
Connect to our platform : https://impressions-bu.cyu.fr/
Sign in with your ENT MyCY account which is also used to login to CY library online resources and WIFI.
All registered staff and students of the CY University automatically have their ENT login, but it should be activated.
Identification impression
External uers need to create an account on the
"Register as new user"
button ,
"S'enregistrer en tant que nouvel utilisateur
"
in French.

Payment of your copies with your student card !
Pay with IZLY wallet
With your IZLY account,by associating your card with the copiers in your libraries.
Recharging is done via the
CROUS
website.
Load your Papercut account with your credit card
​
​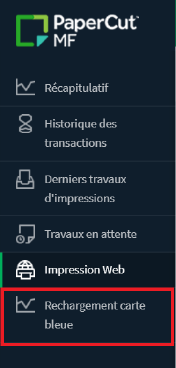 This account allows you to pay for your printing and photocopying.
In your Papercut account, select "credit card top-up" ( "rechargement carte bleue" in French)
as shown on the left.
A Bluemega page appears.
You can choose the amount to load from 2€50 to 20€.
Upload your documents
On the
Papercut
site you arrive directly on the "Web printing" tab,then click on the "send prints" button.

Please select whether you want it black and white or colour and simplex / double-sided

Select the number of copies you want.

Upload your document.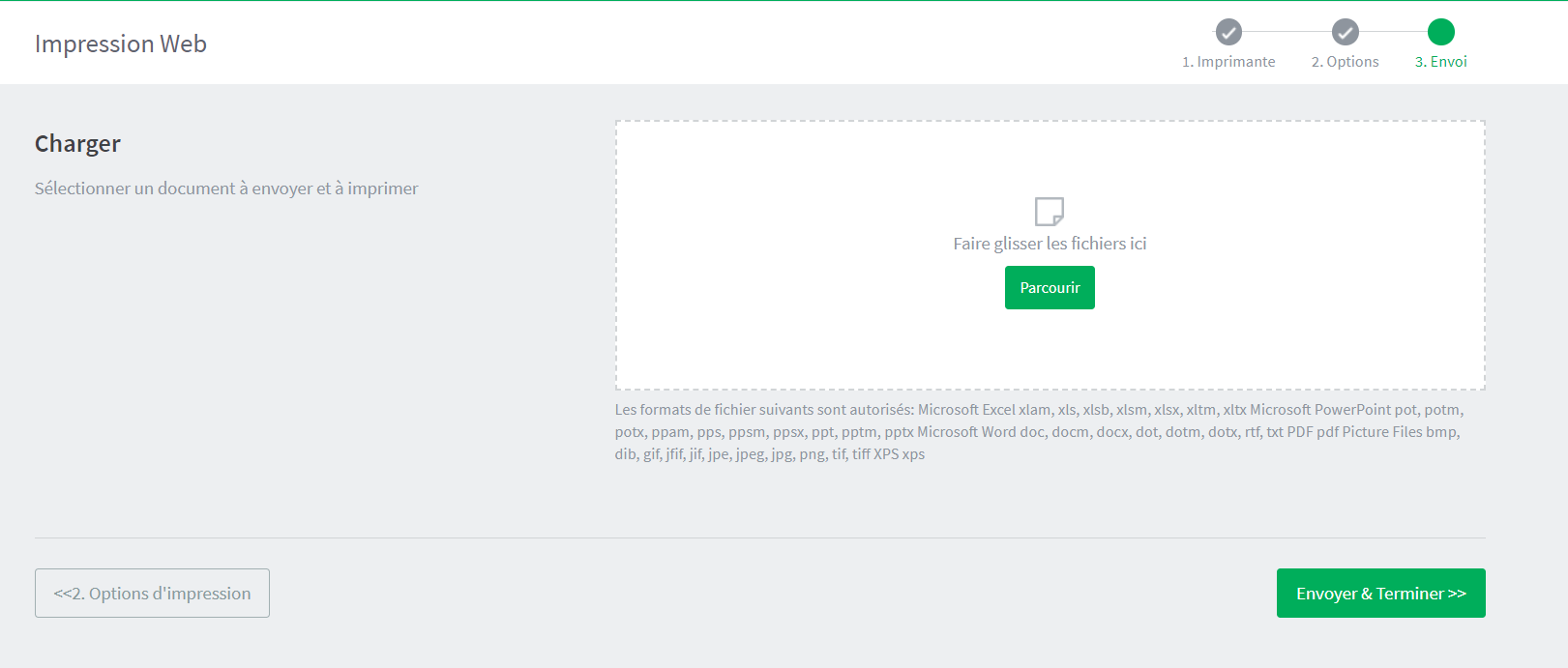 Unlock your prints
To do this, go to a copier in one of your libraries.
Placez your card on the yellow sticker.
If this is your first connection, the copier does not recognize your card. Without going back,enter your ENT login to synchronize your card with your account.
Select "print"
Select your document
File formats you can print

- Microsoft Office,OpenOffice, PDF, JPG, GIF, PNG, TIF, BMP, TXT
- Documents A4 ou A3 ( colour)
Other formats are not accepted.
You have 72 hours to edit and pay for your prints. After this period they are purged. Remember to log out of the print portal.
Having a problem ?

In case of problem,you can send a message by completing the following form :
http://www.sedeco-impressions.com/cergy-pontoise/contact
Photocopy a document
Place the document to be copied on the copier glass.
Placez your card on the yellow sticker.
Press "Copy" on the copier screen,choose your copy options and press the green button to start printing.
Scan a document
You can scan a document to a USB memory stick or to an email address This service is free.
Insert your USB stick into the port on the left of the copier screen.
Place the document to be scanned on the copier glass.
Place your card in front of the yellow sticker.
Press "Scan" then "USB", choose your scan options and press the green button to start the scan.
Bind a document
This service is available in the St Martin library and it is free.The binding machine is at your disposal in the reprography room.
Old photocopy card
The old printing system is still active at the Cerclades and Saint Germain libraries to give you time to empty your old photocopy cards.
Where to print ?
Cerclades Library
- 2 B&W/colour print/copiers (ground floor and 3rd floor)

Chênes Library
- 1 B&W print/copier
- 1 color print/copier
Neuville Library and Saint-Martin Library
- 1 B&W/colour print/copier
Libraries of Cergy-Hirsch, Saint-Germain-en-Laye, Antony and Gennevilliers
- 1 B&W/colour print/copier

There is no a copier at Argenteuil and Sarcelles libraries.
How much does it cost ?
For printing in A4 format
€ 0.07 for a B&W print
€ 0.18 for a color print
1 A3 print = 2 A4 prints
1 double-sided printing = 2 prints
https://bibliotheque.cyu.fr/english/our-services/photocopy-print-and-scan